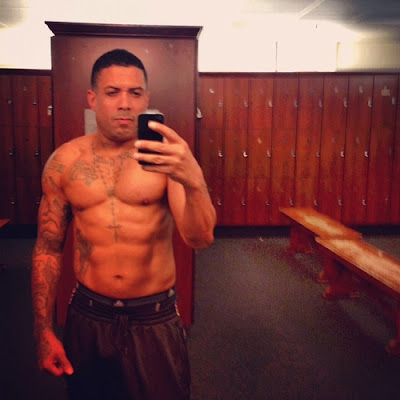 (CelebNMusic247-News) Benzino Full Frontal:
 To all Ladies who like a man with no neck, packing average sausage, then Love & Hip Hop Atlanta's Benzino is serving his chorizo for you all to see!
Here's the drop via our friends at 4UMF:
"Love & Hip Hop Atlanta" star Benzino is notorious for taking bathroom mirror photos of himself and posting them online.

The self-proclaimed "Animal" left the cage open because Baller Alert received a photo of Benzino bucketnekkid snapping a photo of himself in the bathroom mirror.

It's officially time for Benzino to stay out of every mirror he comes in contact with including dressing room mirrors.
See Benzino's lil buddy here.
All we have to say is Nooooooooooooooooooooooooooooooo! Benzino, please, no!
Related articles