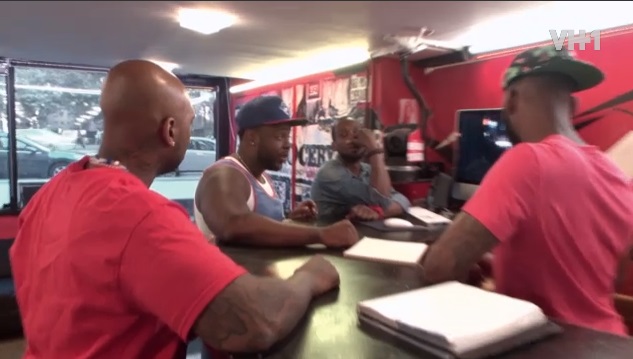 Black Ink Crew Finds out About Dutchess Stripping
The drama unfolds on tonight's Black Ink Crew with Dutchess Ink, Sassy quitting, Ceasar's Baby Mama drama, Dutchess Stripping gets exposed and Puma first IUFONY show
The episode kicks off with Ceasar finding out from Tiffany that Sassy has quit after Dutchess posted a wrongful joke about her sleeping with Ted. Sassy didn't take well to the Joke so she walk out. When Walt speaks his mind on the situation saying it was wrong to do that Dutchess goes off and say Sassy should have dusted it off. She goes in and says she glad she gone and if he feels the same way then he needs to step too.
While that is going down, Teddy tries to make headway with Ceasar's baby mam Crystal, but after talking to her he realizes that Crystal thinks that Ceas is getting paid with Black Ink, so she wants more money. Ted realizes that Crystal is money hungry and her gold digger side reveals itself. He ends up calling her a "Charlie Brown teacher" then she puts on a crazy @ss fur hat and walks out. Bottom line Ted calls her a vindictive baby mama out for money.
Check it:
Ceasar is going through it, when BSM (Brick Squad Monopoly) rapper, Frenchie Stops Black Ink with O'S**t's bondsman to get a tattoo on his stomach. to get some fresh ink from Ceasar. While tatting Frenchie, Ceas talks about his baby mama and how nobody wants to be dubbed a dead beat dad.
 Watch:
Walt finds out about Dutchess stripping at KOD the mother load of Strip clubs from Alex, so he bring back the video clip and plays it for Ted and O'Sh*t in the shop. Ceasar walks in and explains that Dutchess was holding a charity event and danced for her Charity. Ceasar says he was there and that the event was misinterpreted by the media.
O'Sh*t clowns Ceasar and throws a bow tie at him telling him he needs to get his Chip and Dale stripping on to show up his girl.
The ex-Black Ink Crew teams up to help Puma and Sassy with his street fashion show for his clothing line, IUFONY. Sassy take the reigns and turns it out for Puma. While Alex, Walt and Sassy work the runway for Puma and his IUFONY clothing line. Its a huge step for Puma, but he had a great show and is proud of his hard work to support his family.
Sassy organizes the show while Alex and Walt walk as models while Puma makes points out the his friend of 15 years, Ceasar and his girl Dutchess didn't show up to support him. You can tell he's hurt by Ceasar.
Check it:
After a long night of partying for his birthday and having his first runway fashion show Puma has to come face to face with Quani and her mother, Denise, who want to discuss planning the wedding, but Puma is dealing with a major hangover after going hard at the strip club. Quani's mother is not happy with Puma and his destination wedding in Jamaica.  When asked about a structure and making wedding plans Puma comes off irresponsible and looks bad to her mother.  Later Puma and Quani face off and she tells him to step up and start finding balance with being a father and his party life/work hustle.
Check it:
Ted brings in his female stripper friend India to get tattooed by Dutchess. Dutchess tattoos a Jay-Z lyric down the spine of the girl's back. Walt gives India the face of judgement when he finds out that she is a stripper that is writing a book called The Mastermind of a Stripper. Instantly Dutchess talks about stripping at KOD in Miami, talking about holding and event for charity because she has lots of friends who are strippers.
India and Dutchess talk about the south while she inks her back and we have to say Dutchess who believes everyone needs to have tattoos with reasons not mistakes or tattoos just to have tattoos because thay have lots of people who need touch ups and cover ups like Erica Mena on last weeks show, ridding Rich Dollaz initials on her hand.
By the way Dutchess kills it with India's back tattoo.
Check it:
Make sure to catch next week when Sassy and Dutchess face off, because the Black Ink Crew all feel the trouble maker of Black Ink is Dutchess.
She claims to be real, called out Alex last year, got Puma and Sassy fired and changed up the vibe of Black Ink. Do you think Dutchess is the problem? Is she being portrayed wrong by the producers of the show or has fame gone to her head?
Or is Alex still playing the puppet master from a far and manipulating the Crew?
Give us your thoughts?
Related articles