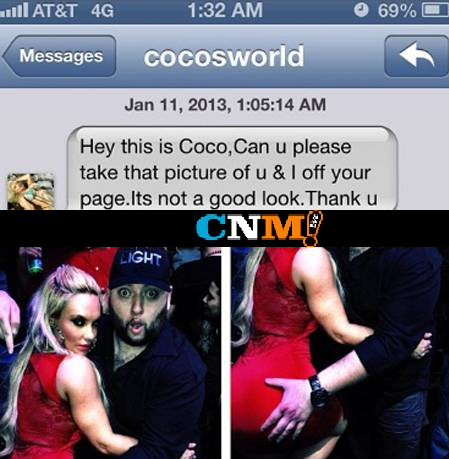 (CelebNMusic247-News) Coco Instagram Photo Scandal
Coco Instagram photo cover up thickens!
First Coco was disrespected by AP.9 and now a new guy has put hands on Ice T's wife bottom @sset.  Another inappropriate photo has surfaced from Coco who is currently doing Peep Show in Sin City.
Lindsay who??? Coco has photo issues again.
Here's the drop:
The photo in question was reportedly taken the very same night rapper AP.9 claimed that he hooked up with Mrs Austin, but in this instance, it features her getting a squeeze from ARIA Resort & Casino's Haze Nightclub former manager Moose Diesel!

Word is, Coco is NOT pleased to have Moose's private photo shared with public, but now he's responded to Coco's request to remove the picture.
Moose sarcastically replied:
"Hey this is Coco, Can u please take that picture of u & I off your page.It's not a good look.Thank u."
"It's not a good look for you, not me . You knew what you were doing when you took the pic."
Actually he's right…and hopefully Coco will stop doing these favors for desperate men. Coco is still 100% Ice T's woman, so he ain't worried.
Regardless, it appears that both photos were taken in the same night.
Don't ya just love Screen Grab!
CelebNMusic247 brings you latest news on celebrity daily…Stay connect:
Stay Connected to CelebNMusic247.com: Follow us on Twitter – Like us onFacebook and Friend us on YouTube or Download the CelebNMusic247.com Toolbar below:
Related articles