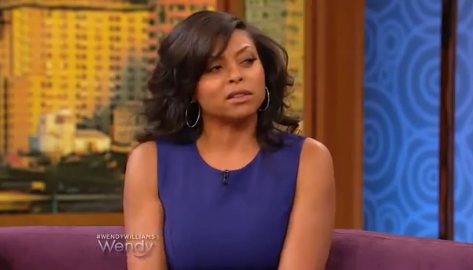 Taraji P. Henson is one of the best actress on screen to date. Our friend in our head has a lot of personality on and off the camera!
Since her breakout role in Baby Boy' there hasn't been a role  the actress hasn't nailed on screen.  Taraji P. Henson stopped by The Wendy Williams Show and chatted it up with Wendy about a number of things including why she made her son Marcel sit out a semester of school, her desire to maintain a private life despite being Hollywood and why she keeps her personal and business life separate.
Here is some highlighs from her interview when in the Hot Seat:
Why she made her son sit out a semester from school:
"I had my son sit out a semester, a year. We did the gap year. I just felt like he wasn't ready. He's of college age, he's on his way to college. He was supposed to start last year…I want to set him up for success, not failure. And a lot of kids when they go to college, and they're not mentality ready, they're not mature enough, they fail. And he's not gone waste my money. I feel like me invest in our children's future and like I said, I want to set him up for success, not failure."
On 'Think Like a Man' sequel:
"It's being made. We start [filming] on May 13th."
Why she's NOT out and about much for paps:
"This is what you guys need to understand. I don't do it and I'm not judging but a lot celebrities call the paparazzi to meet them where they're going. So I am choosing to have a private life because I have a son…I have a son who is on the Internet. And like I said the last time I was here, I don't know what it is to grow up, you know, his father was murdered, I don't know what it is to grow up without a dad, my grandfather was murdered. Now my mom's this big celebrity and she's always in the tabloids. I wouldn't do that to him."
Where Idris Elba and her ever an item outside of acting on screen?
"No, not at all. I just do not mix business with pleasure. I just don't. I think the scenes, those love scenes, would be different if we crossed that line. And I don't think it would have as much impact or much fire because myself and the actor, we crossed the line already…And if you had sex with them, why would they want to work with you again?"
Check the video and watch Henson in the Hot Seat:
CelebNMusic247 brings you latest news on celebrity daily…Stay Connected to CelebNMusic247.com: Follow us on Twitter – Like us onFacebook and Friend us on YouTube