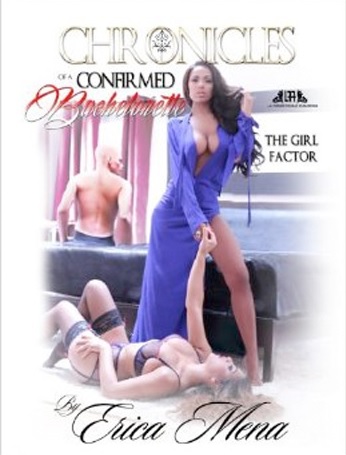 (CelebNMusic247-News) Erica Mena Pens New Sex Book
On Love and Hip Hop premiere, Erica Mena revealed that she is batting for the other team and is like a woman's touch these days.
While busy picking out sexy lingerie to wear on the cover of her new book, Erica Mena's ex Manager/boyfriend reveals to Rich Dollaz that she is dropping a book about sex and is dating a woman.
When he asks about his fountain of youth being a part of her life she tells him noway. The two go at it about him working with Peter Gunz and signing his new artist Amina Buddafly.  It's obvious that Erica Mena has NO LOVE for Gunz and sounds off at Dollaz. She admits she's bitter that he screwed up her paper and relationship with Richie.
Mena's first book, Underneath It All, came out earlier this year, and the new one, entitled Chronicles Of A Confirmed Bachelorette: The Girl Factor, just came out yesterday. From the book's Amazon description, it sounds like a must-read, if only to figure what the hell we're supposed to be doing with Pop Rocks:
Some people have asked me how could I want a woman and a man. Some have called me greedy and some have called me confused. But I asked why not have both? Who wouldnt want the best of both worlds? Why should I have to choose? I love being in the arms of a strong man but I also love the feeling of a womans soft lips on mines. Call me greedy or call me confused I think of it as free spirited. I m going to take you into my world. Ladies do you know what you can use fruit roll ups or pop rocks for? Men do you know how to reach your womans G-spot? Get lost in my sexual rendezvous. Experience exactly how I feel when I m with a man or woman. Come share my erotic fantasies. See what has me gasping for air, clawing my nails into some ones back, and my eyes rolling behind my head. Welcome to Chronicles of a Confirmed Bachelorette: Girl Factor where every page will have you panting, aching, moaning, and quivering for more.
Related articles