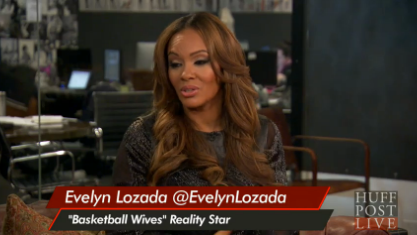 Since Evelyn Lozada's infamous fight with her 15 minute marriage with Chad Ochocinco Johnson her personal life took a massive hit and her marriage came crumbling down.
Although, Evelyn Lozada fans found it hard to believe she was not the initial aggressor because of how she's acted on "Basketball Wives." Even an appearance on "Iyanla: Fix My Life" hasn't been able to erase critics' perception of her. These days, Evelyn has a changed her mind about doing reality TV and since her contract only specified that she would do 5 seasons it seems her time is up.
Her plans with Chad Johnson for a spin-off fell through after the headbutting incident that left her with a split open forehead.  Perhaps that's why Evelyn is now ready to walk away from the show.
In a recent interview with HuffPost Live, Evelyn says she doesn't plan on doing another season of the show.
Evelyn Lozada states:
"As far as future seasons, I signed on to do 5 seasons and this is our fifth. I don't really see me doing a sixth season."
When it comes to a spin-off Evelyn  say that she knows she could if she wanted to because she carried Basketball Wives:
"I don't know. I'm open to doing a spinoff, just not with a cast of women."

"I'm in a different space. I have so much other things going on, I had my own show before and unfortunately it was cancelled due to the incident but I know I can carry my own show. I pretty much carried this one, so I feel like we'll see."
Check the interview as she talks about a new partnership:
Related articles