The Gods have answered every woman's prayers and has brought back Idris Elba on the cover of GQ.
Now if could only lose that shirt!
What better way to kick-start the morning than with sexy pics of Idris Elba. The British actor is covering the pages of the March 2013 British GQ magazine. Inside he discusses where the whole sex symbol status came from and upcoming projects.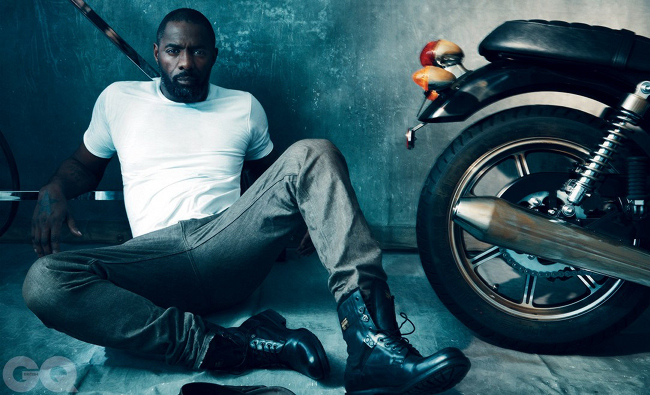 Now ladies we know plenty of you would like to be resting between Idris legs and who wouldn't he's one of the sexiest black men on the planet, and there's no denying it!
When Idris is not busy cancelling the apocalypse with Guillermo Del Toro or playing London's most unhinged detective as Luther, Idris Elba can be found in north London indulging in another of his passions: DJing. Hackney's most bankable export is currently the star attraction at Love and Liquor in Kilburn playing every Friday night until mid March.
Here's a snippet of Idris Elba's GQ interview:
GQ: How does it feel to be on the cover of GQ?

"I mean, GQ! Come on man! Not to sound like a fan but to be on the front cover is a f*****g goal in the 90th minute, you know what I mean? It's like having a bust left foot, a broken right foot, getting dragged out of the penalty box and still scoring. That's how big that moment is for me."

Why have you come back to DJing?

"Not "back to DJing". I've always been DJing, it's just I'm making more of a push for it, making it more public. I'm at a massive crossroads at the moment. Whether it's music or acting, that creativity all comes from the same source. It's a bit like if you work out your arms or your abs too much, your legs get skinny. You need to exercise them all at the same time. As wanky as that sounds, I have always kept music as a bit of a stepchild so I thought  "F**k it, I'm going to enjoy it". My ambition for it has already been fulfilled so I'm doing it because I love to do it."

What is an album every man should own?

"The one album I can't live without is called Cumbolo by a band called Culture. Every song on their album is deep, but there's one in particular called "This Train". I have a tattoo of the lyrics on my left arm."

On being in Mumford and Sons video


"I really enjoyed working with them. They gave me a great opportunity as I directed that video and I was also in it, but it was like a massive creativity splurge. My friend Dan Cadan – he's a director who worked on a lot of Guy Ritchie's early films – helped me to craft that video. We were in the wilds of Wales with a couple of cameras, a few sheep, a couple of deer and a dog. Infact, in the original director's cut of the video there's a close-up shot of the dog collar with the word Rambo written on it. I sent the first video Mumford & Sons and one band member – who shall remain nameless – asked me to take that shot out. I'd put it in there as I'd been round his house and seen it was the name of his dog. Sadly it's a moment no one will ever see as I have the only copy."

On his sex symbol label

"The irony is I wake up every morning, look at myself in the mirror and think,'"Woah, I look like a piece of [expletive].' You watch yourself age and it's hard to feel like a sex symbol.

"I'm not sure what it is they see, not to mention that, personally, I feel very awkward. There's no way all those women would ever sleep with me and go, 'I really liked him.' Some of them would go, 'He was really boring or he was a bit aggressive or, urgh, actor.'

"But it's a compliment and it's a massive tool to use in sculpting a career, especially with what I do for a living because I work in the face business. So it's a compliment and I use it accordingly."

On rumors of him being the next Bond

"It's a rumor. And, I have to tell you, if the producers of Bond thought that I was self-campaigning, it would be such a turn-off. I'm flattered, obviously but I've been advised to just pipe down about it.

"Apparently, Daniel Craig said I'd be a great Bond. Daniel, why did you say that? Dropped me right in it! What an honor it would be, but also, what an indication of change. I know Ian Fleming [James Bond creator] lived in Jamaica for a long time, didn't he? I think it's interesting to think what he would have made of a black man playing Bond."
Read more at GQ…
CelebNMusic247 brings you latest news on celebrity daily…Stay connect:
Stay Connected to CelebNMusic247.com: Follow us on Twitter – Like us onFacebook and Friend us on YouTube 
Related articles