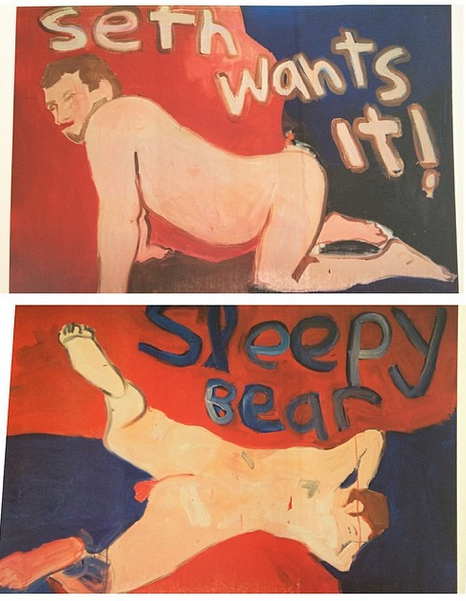 Seth Rogen nude photo on Twitter has inspired James Franco so he's been diligently working on a series of Seth Rogen nude paintings.
Franco unveiled another original work of art on social media. This one is of Seth on all fours and the other makes reference to the Neighbors star as a bear waiting to be mounted.
James also announced that his paintings can be seen in NYC at the Pace Gallery and in LA at the OhWow Gallery.
James writes:
"MORE SETH ROGEN PAINTINGS – they're COMING!! PACE GALLERY – NYC OHWOW GALLERY – LOS ANGELES"
Seth has been immortalized in art which it the highest of flattery for any friend. Great work James.
What do you think of the paintings? Would you buy a nude of Seth Rogen?
In other news, Franco became the life of the party during the Tribeca Film Fest poking fun at Kimye Again:
PageSix reports:
James Franco was the life of the party at Up&Down on West 14th street Thursday night to celebrate the Tribeca Fest premiere of Gia Coppola's "Palo Alto."

Franco missed a performance by Dev Hynes because he was appearing in Broadway's "Of Mice and Men," but spies said the crowd pressured the keyboardist to perform again just for Franco.

When the DJ dropped Kanye West's "Bound 2" — the music video that Franco spoofed with Seth Rogen — "suddenly, all eyes were on James. Everyone wanted him to re-enact the video," says a spy.

Instead he grabbed the mike and said that West recently asked him and Rogen to do their rendition at his upcoming wedding with Kim Kardashian.
#CelebsAreCoolRight
Related articles