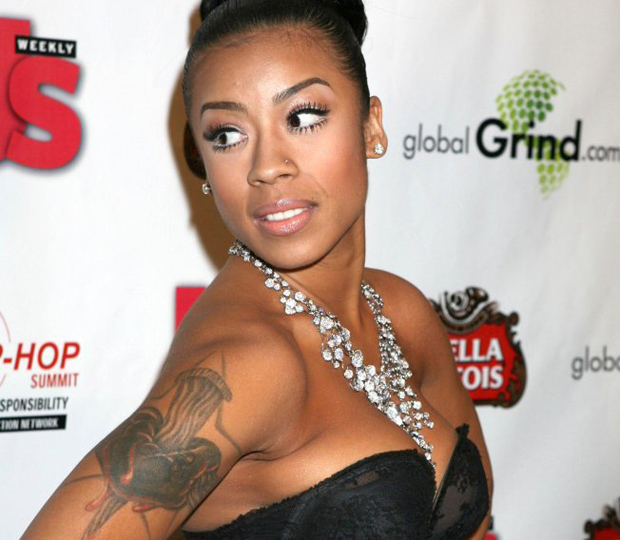 Twitter was in a frenzy after someone leaked a photo of Keyshia Cole allegedly performing oral sex on a man's genitalia.
Well Cole has come forth to shut the RUMOR down saying that the image that is currently being circulated on Twitter is NOT her!
Keyshia is firing back, claiming the image is not of her, she writes:
"Evil a** haters STAY on some bullsh*t! Y'all wish! Lol!" she tweeted late Wednesday night, adding, "Let em have fun! They seem to enjoy being filth, I say let emm talk! RT @eman_amg: That's not @KeyshiaCole nose Or tattoo … get off that."
Today [Thursday November 29th] things are getting more serious for Cole and her camp, because the photo is going viral and the media is eating it up.
The singer /reality star's tone has complete changed.
She is now saying:
 "People that have no self-respect, you worship! Folks that have a child, a husband, hustled from the bottom up, y'all try to tear down. Shame."
CelebNMusic247 has looked at the photo, which we will NOT post on our site and like Keyshia is saying it appears NOT to be her. Here is why we are coming to this conclusion,  the singer has a tattoo in the same location as the woman in the photograph.
Some are saying it was before she made it and got the nose ring and tattoo, but if that is the case then how old is the photo in question?
CelebNMusic247 brings you latest news on celebrity daily…Stay connect:
Stay Connected to CelebNMusic247.com: Follow us on Twitter – Like us onFacebook and Friend us on YouTube or Download the CelebNMusic247.com Toolbar below:
Related articles