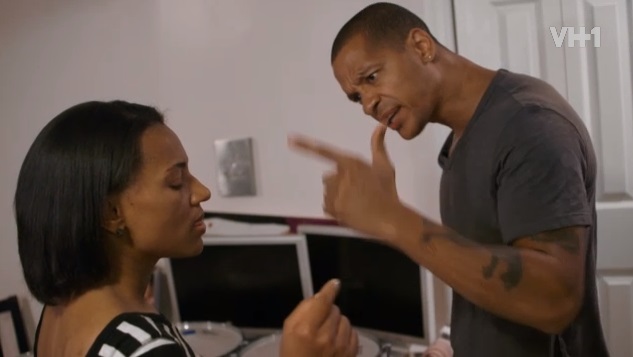 (CelebNMusic247-News) Love and Hip Hop Recap: Betrayal in Full Effect
Tonight Love and Hip Hop 4 picks up with Tara Wallace and Amina Buddafly fighting at the restaurant with Rich Dollaz and Yandy Smith.
Tara is devastated that Peter Gunz went behind her back and marry another woman when she has 2 sons by him. Amina is proud that she told Tara.  Tara is furious with Peter and after waiting a whole night for him to come home, she throws his things out the door.
Peter place it off like marrying another woman is just a simple mistake, when she is the mother of his children and has supported him for 13 years.  Peter claims that Amina pressured him to prove his love and so he married her.  While Tara is done with slowly being stabbed in the heart and being betrayed by the man she loves.
Saigon Celebrates The DNA Test Results
On a brighter note Saigon is celebrating his birthday with his baby mama, Erica Dean so the two of them have a sit down privately to read the results of the paternity test together.
Saigon finds out the boy is his and his is over-joyed about the news. Could there be love for Saigon on this season of Love and Hip Hop?
Watch:
Tahiry Breaks Up With Joe
On the flip-side, Tahiry and Joe Budden are in celebration mode instead the two are trying to work out their issues with their relationship at couples therapy. After hitting walls with Joe and he not getting how she feels, Tahiry realizes that she needs to move on for her own well being.
While at therapy together, Tahiry feels that Joe does not respect her or put her as a priority so she ends the relationship.
Watch:
Yandy and Rich have a sit down about turning things up and to stop playing about getting their label started. They both agree to stop worrying about Peter Gunz and Amina Buddafly relationship and drama.
While Yandy and Rich Dollaz are getting their business in order, Erica Mena has a sit down with her girl Cyn on the beach to talk about having Rich Dollaz rep her once again. It's obvious that Cyn has ill feelings about Rich, but Erica says he was good with her and the only man that gave her an opportunity when no one else would.
Cyn Disapproves Of Rich
Later Rich stops by Erica and Cyn's photo shoot, Cyn tells Rich what she thinks of him and that she does not like how he treated Erica last year. When Cyn puts her 6 inch heel down, Rich get's Dejavu and his guard goes up instantly with Erica and questions working with her again.
Once again Rich knows that Erica means drama and drama means problems in business, so Rich gracefully leaves and tells Erica thank you but no thank you.
Watch the Love and Hip Hop recap:
Love and Hip Hop makes sure to have mellow drama when Tahiry heaads over to her girl Rashidah's to talk to her about catching Joe cheating on her. Mind you Tahiry, is only guessing if Joe cheated, but she's been hurt by Joe so many time over 12 years that she can no longer put up with it.
While at Rashidah's event, Tahiry, Erica Mena and her girlfriend Cyn are having drinks when Nya walks up. Erica opens up and admits to doing things behind Rich Dollaz back last season, but she also calls Peter Gunz a stalker for checking her Twitter and Instagram and telling Rich. Erica thinks Peter is a cornball.
Nya Offends Tahiry
Things start off a bit rough when Rashidah suggests Nya and Erica to do a collab, but the two both admit it would not work out, because they are both two strong women.
While Tahiry questions Nya with her eyes glancing to Rashidah, Nya tries to be funny and throws Joe Budden under the bus. Nya continues to claim that all "dem Spanish B***hes is crazy and ya'll like to share some d**k" which instantly offends Tahiry and the verbal fight begins.
Nya and Tahiry get into an argument over Joe Budden and some racial comments are made by Nya.
Check it:
Before Erica showed up to Rich's office he, Peter and Saigon meet up at the gym to talk about Tara and Amina fighting. Rich stays quite, but Saigon tells Peter straight up he screwed up and that he is team Tara. She is the mother of his children and he needs to fix things and divorce Amina!
Erica Signs Rich's Contract
After Rich Dollaz and Erica's girl started off on the wrong stiletto, he knows that he would be a fool to work with Erica Mena again. With Peter Gunz no longer being the go to man for advice after screwing up his relationship with Tara.
Rich is shocked when Erica watlz into his office with a signed contract to work with him again. Rich goes against his gut and says yes to making money, but he knows he's gonna get hella flack from his partners and peers.
Watch:
Related articles