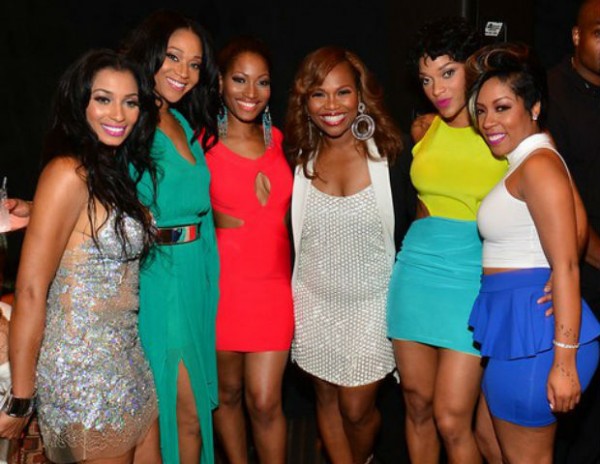 (CelebNMusic247-News) Love & Hip-Hop Atlanta's Earnings Revealed
Time to find out about the Love & Hip-Hop Atlanta cast and who is making the big money and who is not.
In a recent revealing article via Black Enterprise [RashaEntertainment] there is no denying the fact that being ratchet is paying off for many reality television stars.
Although many media outlets, church's and community have spoken out against the shows and how it's viewed in a negative light, cash rules and there is plenty of that being thrown at each cash member.
So what is Stevie J, Joseline, Mimi, Erica, Scrappy, Benzino, K Michelle and Rasheeda taking home?
Here's the drop:
In 2012 CelebrityNetworth.com estimated that Stevie J's main side woman Joseline was worth a modest $50,000, or what some might speculate is what she was paid to appear on the show (plus a little more).

Her dough was, apparently, on the low-end of the spectrum, particularly if you consider that Benzino's love interest Karlie Redd has reportedly made $200,000 off her career as a singer and Scrappy's rumored fiancée Erica Dixon made $300,000 (mostly off of TV appearances). Former Jive Records singer-songwriter K. Michelle and rapper Rasheeda Buckner are said to have generated $500k and $600K, respectively, off of TV and music.

But Mimi Faust reportedly surpassed them all, allegedly taking home a total of $1.5 million. But, as she would say, don't think for a second that that's alimony money from her baby daddy Stevie J., — Mimi's been operating her own cleaning business, Keep It Clean, Inc., for years, thank you very much, prior to making even more of a come-up on the TV side.

Over in the men's corner, Lil' Jon protegé Scrappy is definitely not getting by on scraps, pulling in an apparent $700,000. You may remember that the tattooed rapper was among the first acts signed to L.J.'s Black Market Entertainment Recordings label.

And in the millionaire category, Stevie J. is said to have made $5 million via his music-making career, which is not too much of a surprise given his storied career in the industry as a three-time Grammy award winning songwriter, musician and producer first aligned with Diddy's Bad Boy Entertainment.

This, while The Source magazine co-founder Benzino maintains his rap persona (and apparently tabloid magazine presence Hip Hop Weekly) at the tune of $10 million.

But Atlanta definitely has some competition with the original New York crew of "Love and Hip Hop" — and we're not even getting into Mona Scott-Young numbers. (Scott-Young, of course, is the mastermind behind the series).

Celebrity Net Worth says new mom and former manager to Jim Jones Yandy Smith is killing the game with a $15 million net worth (apparently $5m more than Jimmy), which may be part of the reason she wasn't too afraid to walk away from him in the first place. She now apparently works as a talent agent with Scott-Young, an obvious advantage.

Other notable mentions include interior designer Chrissy Lampkin, Jim's fiancee, reportedly worth $200,000, according to the site; former G-Unit rapper MC Olivia Longott, reportedly worth $2 million; and celebrity stylist Emily Bustamante, worth $1 million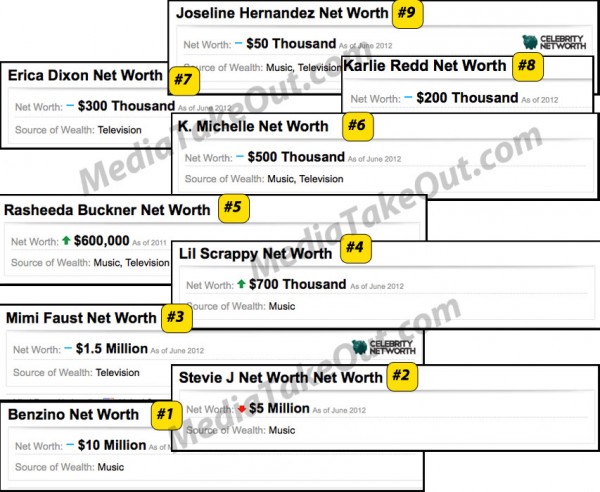 CelebNMusic247 brings you latest news on celebrity daily…Stay connect:
Stay Connected to CelebNMusic247.com: Follow us on Twitter – Like us onFacebook and Friend us on YouTube or Download the CelebNMusic247.com Toolbar below:
Related articles