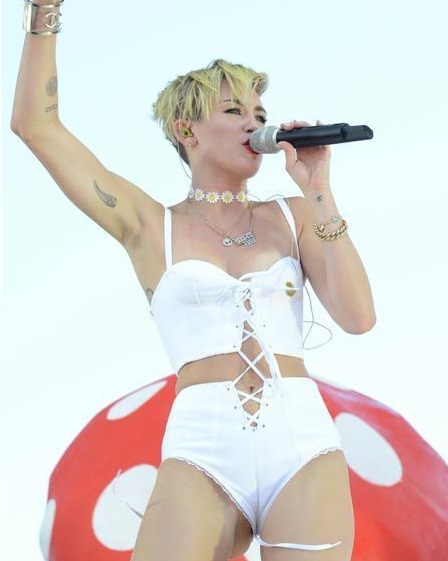 Miley Cyrus spotted with Camel Toe while performing "wrecking Ball" at the iHeart Radio concert in Las Vegas over the weekend
The singer is reportedly spending a lot of "quiet time" at home with her family, while she heals her wounds as best she can.
Miley Cyrus is dealing with her break up from Liam Hemsworth the best she can, but even she can't hold it together all the time.
Rumor has it, that poor old Miley Cyrus was tearing up during her performance of "Wrecking Ball" because of her break up with Liam Hemsworth. However, we don't think it's that at all, because its been said that she's been dating her producer Will – also we think that she might be tearing up because of the serious camel toe from her hysterectomy shorts she was wearing during her iHeart performance.
Here's the drop via Hollywood Life:
Miley performed "Wrecking Ball" for the first time since she and Liam announced they were over, and she clearly couldn't fight back the tears. We told you that she began to wipe her eyes and she looked so upset during her performance, which is totally understandable!

Miley while was crying on stage, her mom Tish Cyrus was looking on from the side of the stage. But it turns out Miley has been relying heavily on Tish and Billy Ray Cyrus, according to a report on E!.

"She's just been spending quiet time at home with the family and staying low key," the insider tells E!. But the insider also adds that she's "doing good" and "excited for everyone to focus on her music when the album launches."

Miley Cyrus isn't taking her break up very lightly, especially since he embarrassed her by making out with Eiza right after they told the world things were done between them. In fact, HollywoodLife.com spoke to a source close to the couple who tells us that Miley is "devastated."

"Miley is extremely angry," a source tells us. "She's saying she doesn't care about Liam, that she's better off without him, all that kind of stuff. But the truth is she's pretty devastated."

We feel so sorry for Miley and hope that she keeps her chin up, because better days are ahead! HollywoodLifers, sound off below and tell us if you are surprised that Miley is leaning on her parents.
She knows how to keep the media talking these days!!!
Miley Cyrus's album Bangerz, drops on Oct. 8.
Related articles