Earlier today a suspicious butt pirate photo of Pharrell surface on Tumblr [Allegedly] and let me just tell you Pharrell has some low hanging NUTZ! [Allegedly]
It's just ink doesn't lie!
And what makes the photos so suspect is that he is lying on his side with his booty up and out with his NUTZ tucked. [Allegedly]
Umm, yeah straight men don't do that!
Not a flattering photo…To see the UNCENSORED pics, click here
Since then, Pharrell has learned that Tattoos are way to confirm photos so he has had all his ink removed.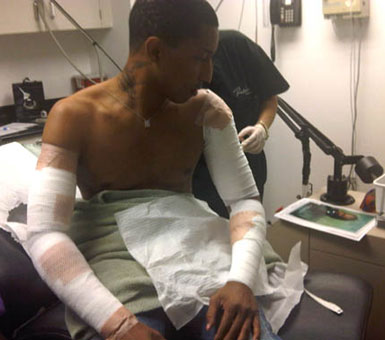 CelebNMusic247 brings you latest news on celebrity daily…Stay connect:
Stay Connected to CelebNMusic247.com: Follow us on Twitter – Like us on Facebook and Friend us on YouTube or Download the CelebNMusic247.com Toolbar below:
Related articles