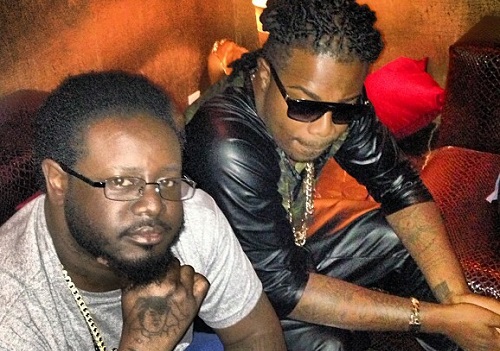 (CelebNMusic247-News) T-Pain Defends His Openly Gay Assistant
T-Pain BLASTS narrow-minded views after people target his assistant for being gay!
Lets start off with the golden rule of thumb for all Twitter followers and fans of music and Celebrities! The Jews and the gays run music and Hollywood, so making back handed remarks and nasty comments about gay people of Jewish people is going to be taken offensive on a large scale.

Sexual preferance should NOT matter as long as a person is good people, fun to be around and is respectful like any other person in this world straight, gay, bi, transgender, purple, green, orange or tangerine it DOES NOT MATTER!

Racism is taught by elders, prejudice is taught by schools and society – it takes you to break the mold and let the racism and prejudice die with the past! Unlearn to learn!
With that said, Singer T-Pain came to the defense of his openly gay assistant after some unnamed individuals apparently tweeted homophobic things about his friend.
T-Pain got sick of the narrow-minded views after people target his assistant for being gay, so he tweeted:
"Attention homophobic idiots: if you're not attractive to straight women, you're probably not attractive to gay men. You can unclench now."

 "Just see a lot of ppl lookin at my assistant like 'oh no better not go that way. That guy wants my butt.' Don't be an idiot. Ur still fugly."
Pain posted later:
"In the club with the gayest and best assistant for the stars to touch this earth @ejking21 y'all can hate if y'all want to you can $!W!$ (suck it while its soft) f–k ya."

"Nappy Boy get the job done. Get ready! We bout to run this sh*t again."
By the way did you notice T-Pain has cut off all those dreads?
CelebNMusic247 brings you latest news on celebrity daily…Stay Connected to CelebNMusic247.com: Follow us on Twitter – Like us onFacebook and Friend us on YouTube 
Related articles