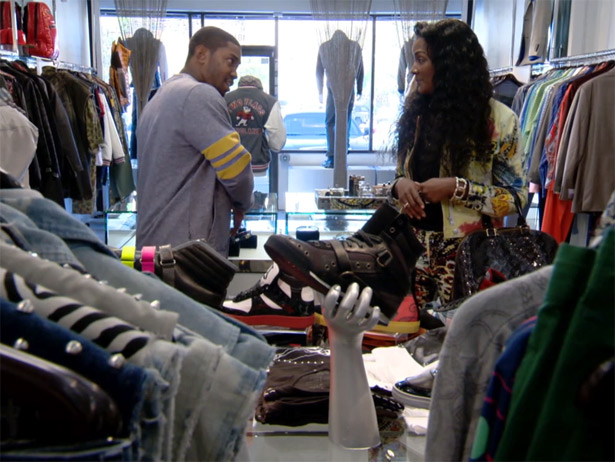 (CelebNMusic247-News) Who NOT To Trust on Love and Hip Hop Atlanta
Love and Hip Hop Atlanta is back, kicking, fighting, loving and causing mass drama like it never left!
Season two is poppin' more than you even imagined. Joseline Hernandez, baby, is still a star. And Mimi is pushed so far past her breaking point she put them paws on Stevie J.
Yes we said paws…and Stevie gets so gully with Mimi that they have to hold him back. Com'on Stevie you ain't no pimp so stop acting like you gonna hit a woman!
Here's what we learned from the cast:
Last night was interesting because Mama Dee is showing her true colors and makes it clear that she is NOT a fan of Erica. Bottom line, Momma Dee is being messy like we knew she was – and this season she looks like the drama starter!

Mama Dee is out for herself and all should be leery!

Stevie J lets us all know that he is controlling and thinks that money is the cure for all wrongs!

Stevie needs to stop thinking with his dick!

Joseline shows that you can take the girl out the strip club but the strip club is still in the girl. Move over Mrs Drama, becasue Joseline is winning for the Ratchet crown!

Joseline needs to watch out for Stevie because he can end her!

Mimi is just trying to move on, but her love for Stevie is her own demise. She needs to get a stronger back bone and find a new man who treats her equal. And lets be honest – Stevie brings money to the table and that is what keeps her around, because without that she would be screwed. Stevie knows this and he has her wrapped around his finger no matter how much she denies it.

Mimi needs to watch her back with Joseline

Erica shows that she is truly in love and that she is all about her wedding.

Erica needs to open her eyes wide shut with Scrappy!

While Lil Scrappy shows us, just like Joseline, you can take the boy out the hood but the hood still up in the boy. He acks like a boy because he's still worried about impressing his friends and peers making it rain on Gucci, Louis and Polo.

Scrappy needs to watch out for Mama Dee because she means him no good!

K Michelle is hyper sensitive about everything, she wears he feeling on her sleeves and her skin is paper thin. She talks ish about everyone, but when the tables are turned she constantly plays the victim. And 9 out of 10 times, she is the issue – she starts the mess and then it backfires in her face repeatedly. This woman needs to learn two words. SHUT UP!

The only good thing out of her storyline was that she signed a record deal with Warner Bros, but we;re just looking out our watch to see how long it will take before her mouth gets her into trouble with that!  We've decided that K is a self sabotager!

K Michelle needs to watch out for herself, because she keeps getting in the way of her own success!

While Benzino's shows us that he now has a late night radio show and of course, while at work one late night the Puerto Rican princess, better known as Joseline is making waves saying she is getting that bread–$20,000/week according to her math. And then drops a bomb about what's up with her and Stevie.

"I love Stevie as a person, I appreciate him, but I just don't want to be with him. Currently I'm single, and I'm always looking for love, 'cause I like to have sex."

Of course, Benzino is concerned about whether or not Stevie J knows this. Doesn't this remind you of Erica and Rich Dollaz storyline in LHHNY?

Benzino needs to stay in his own lane, but its still a little to soon to call!
CelebNMusic247 brings you latest news on celebrity daily…Stay Connected to CelebNMusic247.com: Follow us on Twitter – Like us onFacebook and Friend us on YouTube 
Related articles