(CelebNMusic247 - News)Is Zimmerman's Infamy The Selling Force For Painting?
George Zimmerman, the man behind the death of Trayvon Martin is now adding "painter" to his resume?
The former neighborhood watchman purportedly listed an original painting on eBay and it has hit an all time high of $110,000 in bids for the painting.
But can a person who murdered an innocent due to racial profiling be legal?
The sad part of the law is, yes he can, because he was not guilty in a court of law. Even thought he has numerous drama with the law, Zimmerman is using his infamy to make money.
Zimmerman has painted a 8-by-24-inch canvas features a blue, waving American flag with the words, "God, one nation, with liberty and justice for all" emblazoned across it.
Now the auction was posted Monday at a starting bid of 99 cents and is scheduled to end Saturday. As of Tuesday night, 108 bids were logged for the painting, ratcheting the price up to $110,100. The next bid would top $110,200.
Zimmerman's brother, Robert Zimmerman Jr., confirmed that George painted the piece.
"Everyone has been asking what I have been doing with myself. I found a creative, way to express myself, my emotions and the symbols that represent my experiences."

"My art work allows me to reflect, providing a therapeutic outlet and allows me to remain indoors."
Here's the drop via CNN:
The listing states the piece will be sent via expedited shipping from Sanford, Florida. No returns or exchanges are allowed, it says.

One individual appears to have retracted a bid of $99,666 on Monday.

Zimmerman has been in and out of the spotlight since his July acquittal in the fatal shooting of 17-year-old Trayvon Martin in 2012.

Last week, Florida prosecutors said they would not charge Zimmerman after a domestic dispute with his girlfriend in November resulted in his arrest. Previously,he was stopped several times for speeding.

Zimmerman told a judge last month he had $150 to his name and was $2.5 million in debt.
As for the question of infamy. It seems society loves to have a piece of anything controversial or from a killer. Killer's unfortunately are money makers when it comes to books and art, because people want to understand what makes their mind tick and why did they do it.
The interesting factor is the person who paints the painting like George Zimmerman gives their point of view, but is it really the truth?
None of use may NEVER know why he did it, why he painted it, or what was the driving force behind the American Flag painting. See it runs deeper, because the art world will look at the colors he chose, which would display signs of depression, sadness, and disappointment in the USA. Then to contradict his views, he writes, words of wisdom?
There is more to the painting the meets the eye, but take time and see the twisted perverse vision from Zimmerman which has eBay going crazy.
It's sad that real artists struggle to make it, but someone like Zimmerman paints a flag and hits golden status.
Would you buy this painting? And why? Is it just because it is George Zimmerman art?
Questioning the criminal mind and the photo below:
George Zimmerman is holding a painting in his hands, which he posted on Instagram of Trayvon and his father.  We find this interesting and twisted, especially since he was the man who KILLED Martin for walking home in his own neighborhood.

Do you think George is right or wrong for posting this painting on his Instagram with a big smile of  a father and son, which he was the person who took Mr. Martin's son's life? This is a depiction of love between father and son, and why is George smiling…it's actually creepy. – Editors Correction 
UPDATE: Thank you to one of our readers – We would like to tell you that the painting that George Zimmerman is holding in his hands that he posted on Instagram  was NOT his work.
Our reader writes:
"The artist who actually painted the piece is an artist out of St. Louis, MO named C'babi Bayoc.  GEORGE ZIMMERMAN DID NOT PAINT THAT. "
Thank you sir.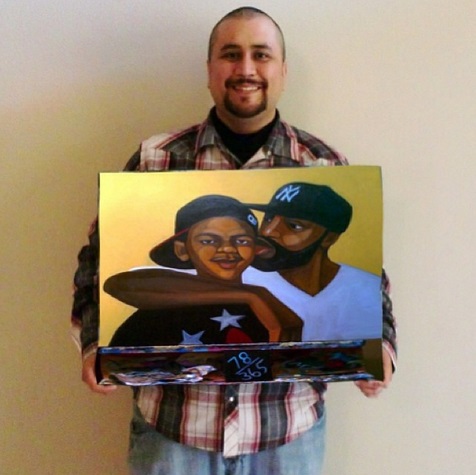 Related articles